In my post
A Haul Before the Storm: Eye candy, Details, First Impressions, & some Mini Reviews
I mentioned there was a small snafu on my part when I ordered the Goodal Mild Protect Natural Filter Sun Cream in my Club Clio USA haul, and that I would be going into more detail about it later. And here we are!
It's a long and slightly boring story, so here's the short version: I messed up my order, I received two sunscreens instead of one, and when I contacted Clio to let them know, they very graciously offered to refund me, exchange it, or whatever I wanted to do. That's pretty spiffy considering that I was the one who made the mistake. I suggested an alternative:
what about a giveaway?
Image from original haul post
So is this sponsored?
Er, maybe? They let me keep it, so I guess so? I'm
not into sponsored posts
but I was willing to make an exception because
this was something
I had purchased myself
, it was not something that was offered to me, I couldn't see blazing through two sunscreens when I live in an at-home vampire cave, and it didn't seem fair for me to make Clio pay for a refund when it wasn't their mistake. They sent me a different product (the Clio Vf21 Volume Brightener) instead of a refund for the extra sunscreen, and all was well. A++ on the customer service; I love that they were willing to make it right despite the miscommunication that was really technically my fault.
So, I decided that once I was finished with testing and using the product, if I liked it I would give away the second tube, and if I didn't, I'd send it back to Clio. I've been using this since mid-June and it's the end of September, so I've used for two seasons and am confident in saying it's been thoroughly tested and is ready for review.
In this post:
Product details
Ingredients & what's the deal with all-physical sunscreens?
Review & white cast demo on NC30 skin
Giveaway details (also includes sheet masks!)
Product Details:
Full product name:
Goodal Mild Protect Natural Filter Sun Cream SPF50+ PA+++
Purpose:
A high-protection sunscreen which uses only physical UV filters, and thus unlike chemical UV filter sunscreens, can be worn either under or over makeup, does not need to absorb, and provides instant protection.
Scent:
I'm just going to quote my original first impression from:
A Haul Before the Storm: Eye candy, Details, First Impressions, & some Mini Reviews
Holy florals, batman. This is like getting punched in the face with a knuckle-and-petal sandwich. It's a nice scent, but if you are ultra sensitive to fragrance, flee and save yourself.
So, you've been warned. I don't really notice it a few minutes after application, but if I apply it on my hand and then bring it up to my face, I can still smell it and it lingers. Also, if I apply anything over it (such as makeup) the scent fades from my face as soon as I layer something over it.
Text

ure

:
A surprisingly creamy, easily-spread sunscreen that sinks in reasonably easily, considering that it's a physical sunscreen.
Quantity:
50ml, which is reasonably-sized for an Asian sunscreen, They are usually tiny.
Rating:
4/5, which is the highest rating I've ever given a sunscreen. My face does not like sunscreen, but it also doesn't like the sun. I can tolerate wearing this on a daily basis, which may not sound like much, but it makes me want to party in the streets.
Where to get it:
Amazon |
eBay
|
ClubClio
|
Bisou Beauty Bar
Repurchase:
Yep. I'm about halfway through my tube and I have a few other sunscreens to try, but if I ran out I would repurchase in a heartbeat. Of all the sunscreens I've tried, this one works best for my extremely hissy-fit-prone skin. See
Skin Type & History for tragic backstory
.
Ingredients
& what's the deal with all-physical sunscreens?
You know what's really exciting when you unbox a Korean product? Seeing an ingredients list in English. It's an unexpected perk that never fails to send a thrill through me as it took weeks for me to translate ingredients and my phone doesn't have enough space for me to install the Hwahae app.
I've left this image in ultra-huge hi-res size, so you can view it in a legible text size if you're really keen on what's in it, or alternatively you can just
view it on Cosdna here
. It has has only a few flags in Cosdna that score a 1, and just one that scores a 2. As confirmed in the ingredients list, it contains only physical UV filters, which is is the who hullabaloo about this sunscreen to begin with.
Click for huge size!
If you aren't familiar with the differences in sunscreen filters, it's worth doing a bit of research. For reasons I won't get into in this post, Asian countries are usually both aggressive and progressive with sun protection, which means that if you're a reader of this blog, you're probably already very familiar with high-protection sunscreens and why they're needed/used. This is SPF50+ and PA+++, so extremely high and also full-spectrum protection. It's also
*heavenly angel chorus singing*
all-physical filters.
You can read an in-depth comparison of physical vs chemical sunscreen filters here:
Skinacea: Physical vs. Chemical Sunscreen
but here are some of the basics as I see them:
Physical filter sunscreen pros:
Full-spectrum sunscreen, which is necessary
Protects immediately upon application
Will not be compromised by reacting with other products
Less irritating than chemical sunscreens**
Physical filter sunscreen cons:
Leaves a white cast on the skin and flashback in photos
Can be expensive and hard to find
Chemical filter sunscreen pros:
No white cast
Wears more easily under makeup because it absorbs into the skin
Cheaper and easier to source
Chemical sunscreen cons:
Some filters are unstable, have controversy around safety, or don't offer full-spectrum protection
Highly irritating to some people, including me
Cannot always be layered under or over other sunscreens or products without compromising their protection (so read up on this if you use them!)
Requires 20 minutes to be absorbed into the skin before makeup can be layered over it/you can go outside
**Titanium dioxide can be irritating to some but Zinc oxide is used for soothing treatments including diaper rash creams.
This product also contains all sorts of fermented goodies and extracts and whatnot, and I can say that this sunscreen really lives up to it's 'sun
cream
' name, because the texture is moisturizing, gentle, and probably not suited to very oily skin types in ultra-hot, humid climates. That's partly what makes it such a good option for fall and winter; it's not greasy, but it's non-drying and gentle enough for winter use- which is good because I need me some all-year-round sunscreen that doesn't feel like I've taken a cheese grater to my face.
Left to right: applied, swatched, and blended. NC30 skin swatches below!
As I mentioned in my
Skin Type & History
post,
I honestly thought that I could not wear sunscreen
, period, because any attempts to apply it would cause my skin to react with burning, bumps, or an intense urge to
claw the flesh of my face right off my skull
. Pimples would form within hours, sometimes as soon as 20 minutes later! It got to the point where I'd be grocery shopping at night rather than deal with trying to find a sunscreen that wouldn't leave me with a face full of breakouts for a week.
So, if you're struggling with reactions to sunscreens, I highly recommend investigating whether chemical sunscreen filters might be the culprit.
It also does not contain alcohol (i.e. alcohol denat, etc) per se, although it does contain alcohol derivatives (i.e. Octyldodecanol) so this may be a good option for those looking to avoid high-alcohol content sunscreens. This is also important for all-physical sunscreens, as often they're packed with alcohol and feel harsh and drying on the skin.
Review & white cast demo on NC30 skin
So far, of all the physical sunscreens I've tried and scent notwithstanding, I like this one the most. It reminds me of the only other sunscreen I've considered rebuying, the IOPE UV Shield Sun Mild Clinic SPF25 PA++, but it annihilates the sun protection rating of the IOPE, not to mention the price.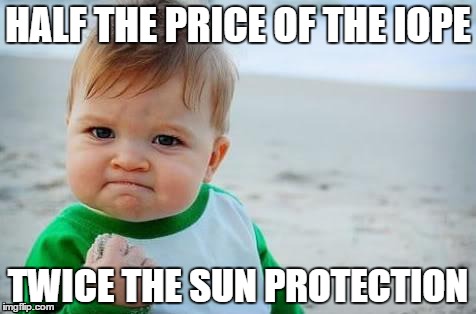 Yessss!
No more skulking in the shade and running from tree cover to tree cover when I go outside!
Why I like it:
It's physical-only
My skin tolerates wearing it (SCORE!!!!)
It's non-irritating, non-drying, and isn't packed with alcohol
It's readily available in the US for a decent price
It has Hanbang-y fermented extracts in it, including Aloe, Licorice, and even Hyaluronic acid
White cast is minimal for a ultra-strong physical-only sunscreen
What I don't like:
I also sent a decant of this sunscreen to a friend (
La Belle Vie on Instagram
)
who is NC25
, determined to find out how it works on a deeper skin tone than mine when makeup, etc are involved.
To my surprise and delight, she reported that although the white cast is more apparent on
camera
, it's
not visible to the naked eye and instead looks 'brightening
'. She also warns that the 'brightening' effect only lasts for about 20 minutes, and then fades. That's actually a good thing, because it means the white cast isn't hopeless. Now that I've seen it 'disappear' (at least to the naked eye) on my husband's skin, I feel more confident in warning people that it might look odd in pictures if you aren't wearing base makeup over it, but it's less likely to be an issue in-person.
If your skin won't tolerate chemical sunscreens, that's pretty encouraging! Here's her skin tone, for comparison:
She also reported that she was equally terrified of the scent at first, but that it faded/was less noticeable in later applications/layered products, so that's also a relief. She also said that she "kinda loves it" and it's "great for days when your skin is irritated." Score!
Edit:
She adds that "[She's] gotta say that the texture is crazy good. It's literally like a regular cream, and to [her], even less thick/greasy than a nivea cream." I agree; the texture is really pleasant to apply and doesn't give me that "layer of sludge" feeling that western sunscreens do.
As you can see in my earlier swatch photos, my skin tone isn't a good test on whether or not something has a prohibitive white cast; sometimes I use white cast sunscreens as a white base to lighten BB creams/cushions that are otherwise too dark for me. While that's all fine and good for the melanin-challenged, that doesn't help the majority of sunscreen-wearers out there, so I've enlisted my husband as my hand model.
So here's the deal; the following photos have been
cropped
(because no one needs to see my un-pedicured toes peeping out from the periphery, also watermarked) but otherwise
not edited, white-balance-adjusted, or even colour-corrected.
That means that the colours will be a little off from real life, but I'm sure you all will forgive me for the trade-off of going edit-free in the name of accurate white cast measurement. These are pretty terrible photos because the viewfinder was so far above my head that I couldn't see what was in the shot, relying on him to tell me (from his much-taller vantage) if our hands were in the shot- I neglected to confirm there wasn't anything
else
in the shot, like tripod legs.
Freshly swatched:
I'm already wearing 3 thin layers on the back of my hand (like I would on my face) and none on my wrist:
Note to self: discuss photo composition with husband to avoid unexpected background objects.
Freshly blended:
although the 4th layer of blended sunscreen is all but invisible on my hand, it's pretty prominent on his, despite his being a single layer.
I dragged him away from smoking BBQ ribs to swatch this; I didn't dare ask him to exfoliate first.
15 minutes later:
sunscreen is invisible on me, but still shows up on him- this really surprised me because it looked invisible until I got him under the direct natural light/camera.
Sunscreen has a faint white cast on him even after the cream has absorbed.
So all things considered, this is a pretty decent white cast result considering that physical sunscreen filters cause white cast, period. There's no avoiding it, unless you choose to go chemical+physical combination, and if you can't do chemical sunscreens, that's not going to be an option for you either.
Want to give it a try? Enter the giveaway below!
Giveaway details:
Winner will receive:
1 Goodal Mild Protect Natural Filter Sun Cream SPF50+ PA+++
5 Assorted sheet masks from my stash
Giveaway limited to the US (apologies!) as I will be shipping it myself
You need to be 18, or have the permission of your parent/legal guardian to enter and receive the prize
This giveaway is open to residents of the US who live in any state which USPS ships flat rate boxes (that's all of them, including Hawaii and Alaska, but does not include territories.) Entrants must be 18 years of age or older, or must have the express permission of a parent or legal guardian to enter and receive the prize. Entries will be verified. The prize will be marked as a gift and should incur no Customs charges or taxes as it will be Domestic shipping, but in the event that the post office charges you some unpredicted fee, said fee will not be responsibility of myself or this blog. Neither the blog nor myself are not responsible for lost, damaged, or stolen prizes. The winner is responsible for verifying the freshness and suitability of all prize items before using them; neither my blog nor myself are responsible for the effect of any products received as part of a giveaway on skin or general health. I will notify the winners within 48 hours of the contest close. The prize winners will have 48 hours to contact me at snowwhiteandthepear @ gmail.com with their mailing addresses. If any of the winners do not contact me within 48 hours, the winning entry is void and I will draw another winner. This giveaway is void where prohibited.
a Rafflecopter giveaway
And with that, we're done! I'm looking forward to seeing everyone's sunscreen tips and thoughts for the fall and winter season.
All the best,
-Cat
**
Disclaimer: All products reviewed/mentioned in my blog, are 100% purchased with my own money, with a single exception of a press sample I tested & reviewed in 2015 which swore me off of them forever.
This product was originally purchased by me, and then I received another product in exchange, and in lieu of a refund, offered this for a giveaway. This blog contains both affiliate and non-affiliate links, and clicking the former before you shop means that this blog will receive a small commission to assist in this blog supporting itself. Please see my Contact Info & Disclaimer policy for more information.