This year has been a plot twist that I never saw coming. Yes, this is happening: a post, on my blog, shambling out of a dusty corner of empties and snarled with torn webbing of sheetmask silk.
Even though this year has been non-stop and the most transformative and momentous period of the decade for me, I couldn't let this year pass without an update + some thoughts about the past and future of K-Beauty.
The pacific northwest is so much more beautiful than any photo can convey.
Many of you have sent me messages and emails asking what I've been up to, why I haven't been posting, and if I'm going to be posting again. Here it is, and this year has been
wild
.
In this post:
What I've been doing instead of blogging aka "The Year Life Yanked Me Out of One Timeline and Shoved Me Into a Totally Different One"
What hooked me on K-Beauty & why my loins are no longer aflame about it
What soured me on the K-Beauty scene & beauty blogging
Where I think K-Beauty is going in the next decade if it lasts
Have you ever had the experience of having the next, say, 5-10 years of your life plotted out, and you're minding your own business, living day to day, and then suddenly, something happens that snatches you up by the nose hairs and hurls you, metaphorical pants around ankles, into a completely new reality?
(Seriously, drop me a comment if you have had this happen to you. Because, wtf, man.)
What I've been doing instead of blogging, aka "The Year Life Yanked Me Out of One Timeline and Shoved Me Into a Totally Different One"
Last year, I was headed towards a future of banal domesticity. We'd bought our first house. We got a puppy. We made friends. We started renovating our house. My puppy became a tiny, sanity-and-home-destroying demon that devoured all my time and energy with the same gusto that she dispatched stuffed toys.
Thankfully, puppies don't stay puppies forever, although you still have to survive their second, longer phase, the Final Boss Form known as a "teenager" which is much worse.
So naturally, I got another one. That's not the plot twist, either.
"Did your crazy ass get a second border collie?!" Yes, yes I did.
She was smol, she was floofy, she was born in December of last year, and we brought her home in February. She tormented Not-As-Tiny Demon with a vigor that felt karmic in its proportions, and life felt settled. We established a routine. I started washing my face again. My husband was becoming established in his career, and things were stable. Oppressively stable, even.
I was still miserable; living in the US for over a decade had taken its toll on me. I felt old, exhausted, lifeless. I was nearing the end of my 30's, and was frankly resigned to early-onset middle age.
Then, it happened.
We went on vacation. (Resentfully, in my case!) It was a last-minute thing, with expiring flight credits and credit card travel points being the driving factor. I didn't want to be away from my dogs, but off we went to Vancouver, Canada in the spring.
Predictably, it was heartbreaking. It felt so good to be home in Canada, to be back in a diverse place, to walk by a pair of young girls wearing hijabs who didn't react to our presence by averting their eyes, stopping their conversation, or hurrying past nervously. The scenery was breathtaking, giving us mountains, forests, and ocean in a single glance.
B.C is really pretty. Really, really pretty.
And the
food
! My god, the food. Hand-pulled noodles. Ramen. Cheap, yet fresh sushi. Poke. Japanese bakeries. European charcuteries. Persian markets. Korean BBQ.
Korean BBQ made me want to weep with joy while shoving it down my maw
Vancouver is one of the most beautiful, and expensive, cities in the world. My husband fell in love, of course; being Canadian myself I knew that living there is a pipe dream few can afford.
But he couldn't let it go: "I wonder what the job market is like in Vancouver."
Me:
*laughs in jaded realism*
Dr. Mr. The Pear: "There's a job posting in my specialty, should I apply just to see?"
Me: *still laughing* "Why not, it's not like they would offer us something that would make it worth it to sell the house we just bought, and move across the country."
Me, my husband, and the Vancouver job market: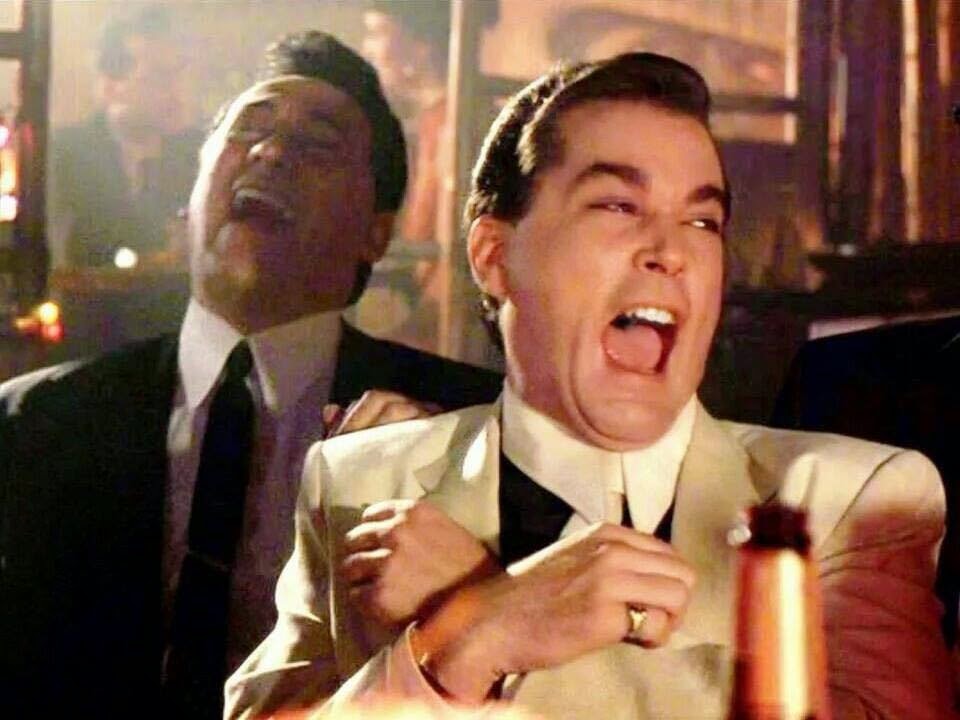 Who wants to move to Vancouver? Ok, who wants to move to Vancouver *and* still afford to eat? BAHAHAHAHAHAA!

Er, yeah. Welp. Come Mother's Day weekend, we've suddenly got a job offer that we can't refuse.
We'd have to sell our house. We'd have to finish renovating our house to sell it. He'd have to go through immigration. He'd have to leave for Canada, almost immediately. I'd have to stay behind, finish work on the house, hire contractors for what I couldn't DIY, handle both dogs, put the house on the market, pack all our stuff and move it, by myself. Without a car, in a small, non-transit-or-walking-friendly Midwest town.
But on the other hand, Vancouver. Vancouver, Canada. To be home, to be free of the escalating shitshow that is US politics, to live in a place dreamt of by many. To be independent again, to feel safe. Dare I hope, happy again.
So we did it. In the space of a few weeks, we went from confident we were going to be living a small, withering, but comfortable little life, in our little house, in a little town, to uprooting everything and moving to another country.
Not going to lie, renovating a house by myself with dogs underfoot was hell, and it took forever.
Have you ever installed glue-down hardwood flooring? If you haven't, it sucks.
I'll spare you the gory, boring details of construction drama, packing and moving drama, immigration drama, and house selling drama, but if you've done any of the above, you know it's the endless, protracted, very
wrong
kind of excitement.
It also didn't feel real. It still doesn't feel real, even though I'm now typing this in front of a fireplace, gazing out the window at the lights of the city, listening to the perpetual rain of the Pacific Northwest. I'm happy. My husband is happy. We eat amazing food. We walk, we hike, we go to the gym and enjoy it. Our dogs miss the constant games of fetch in our large backyard, but love getting muddy in exciting, wild places.
What's the best thing to do while covered in mud? Hop in a stream and shake!
I feel alive again. I'm excited about the future, and while it's a slow process undoing the damage a decade of depression has left on my body, and mind, it's happening.
It's happening
.
What hooked me on K-Beauty & why my loins are no longer aflame about it
Don't get me wrong, after almost an entire decade of using, thinking, and occasionally writing about K-Beauty, I still love it. But I loved it in part because it forced me to learn new things, because it was challenging and inaccessible, because the leading experts on it were everyday people like me, cobbling together ingredients lists from Google Translate and comparing swatches on forums.
Products became popular through word-of-mouth and performance, not because they landed in a beauty editor's PR pile with a promo cheque attached. Ever read a "Best K-Beauty Products list" on a mainstream media site and wonder where the hell they got their picks from, because you've either never heard of any of the products, or they're mediocre at best? They are there because their brands, or the shops that carry them, are willing to pay to play.
The science of skincare was a new frontier for me, full of chemistry and dazzling studies and new knowledge waiting for those willing to slog through Google Scholar. But once you've adjusted to accommodate pH, gentle surfactants, and worked out which
chemical exfoliants
work for your skin, there's not much more to do. Hydrate your skin, then seal it in with a richer moisturizer, and you're set.
Desperate to maintain the momentum of new, cutting-edge technology, K-Beauty PR turned to increasingly ludicrous gimmicks like splash masks, sheet masks with injectable ampoules, microneedle masking patches, acupressure masks, and an endless array of sexy new extracts that were supposed to revolutionize skincare yet disappeared from our radar within a year.
What soured me on the K-Beauty scene & beauty blogging
Not gonna lie, K-Beauty hit its peak in 2014-2016, and it's been fading ever since. When the conversation shifted from the discoveries of everyday users to the narratives of shops who cheerfully retconned the rise of K-Beauty in the west while repackaging its garage-band grassroots appeal into a contrived shine of corporate gloss.
Worse, somehow those everyday users, the bloggers, the forum posters, the Instagram reviewers were rebranded into "influencers", a term which sparked immediate loathing the first time it landed in my inbox. The concept of peddling one's influence, as a personality or media figure, rather than focusing on the quality of their work, was deeply offensive to me.
It remains one of the biggest deterrents whenever I think about sitting down for a quick review of my latest go-to sunscreen, like a whiff of tequila evoking the memory of a hangover so violent it taught you the meaning of projectile vomiting.
The plague of "influencer culture" on the beauty blogging sphere provides both a pressure to have a very polished, high production value style especially on Instagram, while also stripping away individuality and authenticity, like the social media equivalent of the Stepford Wives. (See
@Insta_Repeat
, and just imagine that in a beauty product form.)
Having a unique voice, good research, thorough testing, or your own style pales in comparison to mastering the perfect flat lay, with carefully-yet-carelessly glimpsed trappings of a successful life, usually adorable succulents in a monochrome white setting with a few tasteful mixed metal accents thrown in. Or, alternatively, whatever Glossier is doing these days.
Where I think K-Beauty is going in the next decade if it lasts
Honestly, I'm not sure whether there's anywhere to go, other than further dispersal into mainstream beauty until it becomes just another option in the cosmetics aisle.
And I'm not sure that's a bad thing, either; K-Beauty has had some really dodgy marketing in the past, leaning heavily on
Orientalism
, so the idea of it being viewed in the same way as, say, French beauty, where it has its own style but is still commonplace, is a perfect middle ground.
As
Fanserviced-b
put it: "K-Beauty isn't punk anymore" and we're almost at the KidzBop-version levels of saturation. It seems that most mainstream beauty users are chasing the all-in-one simplicity of the VSCO girl's skincare routine. (Even though I still don't like the spork approach. Please just give me two things that work really well, rather than one thing that does two jobs badly.)
The 2010's were definitely the decade of K-Beauty, but I think that heyday has come to an end. There are still great products out there to be tried and reviewed, and I'll be doing just that, but I think the golden age of new discoveries and exciting advancements is fading into a twilight glow, like office-appropriate highlighter. Just with better skin, and really great sunscreen. I'll need it; I have a lot of hiking to do.
If this is the winter view, I can only imagine how beautiful this park view will be come spring.
Have you ever been upended into someone else's dream life? Or do you have thoughts on whether K-Beauty is still on the rise, or on the wane?
Have something you'd like to share with me in general? Snap a pic and tag me on Instagram at
@snowwhiteandtheasianpear
because I'd love to see it!
All the best,
-Cat
**
Disclaimer: All products I review on my blog are 100% purchased with my own money, with a single exception of a press sample I tested & reviewed in 2015 which swore me off of them forever. Personal gifts from friends & family will also be identified. This blog contains both affiliate and non-affiliate links, and clicking the former before you shop means that this blog may receive a small commission to assist in this blog supporting itself. Please see my Contact Info & Disclaimer policy for more information.