It's that time of the year where postal service slows to a crawl and K-Beauty fans make their last orders with hope of arrivals before the holidays; and if you've been considering sending your mother (or whomever) some Hanbang skincare as a gift, this post is for you. (Unless you're
my
mother, in which case,
READ NO FURTHER, MOM!
)
If you've read my blog, you'll know that
I'm pretty deeply in lust love with all things Hanbang
; just click my
Hanbang tag
and you'll find post after post devoted to the lovely creatures that populate my skincare wardrobe. If you're not familiar with Hanbang, 한방 is traditional Korean herbal medicine, similar to TCM (traditional Chinese herbal medicine) but native to Korea with its own traditions, preparation, native herbs if applicable, and a heavy emphasis on fermentation techniques.
One of the questions I am asked frequently is "what does it do?" and while there is often promising initial studies (mostly out of Korea, naturally) about the potential medicinal benefits of Hanbang remedies, they are rarely relevant to skincare as they're just not studying their topical effects. So why the obsession with Hanbang, when a huge part of my skincare philosophy is a reliance on ingredients with a proven scientific pedigree? Because
I like pretty things that smell like herbs and feel nice on my skin
, and one can find those qualities in spades in Hanbang skincare.
It's also a matter of expectations. Unless a product contains an 'active' ingredient that is clinically proven to have a specific effect on skin, my expectations of skincare are quite reasonable: I want things to hydrate and/or moisturize my skin (i.e. impart water, or oil), be pleasant to apply, and not break me out. With realistic expectations, I have the freedom to apply things for benefits
other
than active skincare management, hence my love of Hanbang.
The problem with Hanbang skincare is that it's also often very expensive, which puts people off from trying it out. So I've put together a little holiday guide of affordable-yet-beautiful options ranging from deluxe travel sizes of expensive products to full sizes of products that won't set your wallet on fire.
In this series:
Luxe for Less: Little Luxuries Under $15 (you are here!)
Full Sized & Wallet Friendly: Full Size Products in the $20-$30 Range (link here)
Hanbang for Just One Night: Sheet Masks for the Commitment Shy (link here)
Some of these I have tried myself, and others are simply on my watch list of things that have caught my eye. I'll also be including some non-Hanbang but still thematically similar Taiwanese sheet masks in part III, because they're a little easier to source than my Hanbang faves.
Luxe for Less:
Little Luxuries Under $15
Realtalk; Hanbang skincare can be
expensive
. Some of the most famous Hanbang brands are
The History of Whoo
,
Sulwhasoo
, and
Su:m37
; they all feature emphasis on traditional fermented herbal ingredients as well as a luxurious, ornate aesthetic. They're also famous for being wildly pricey; if you've ever had the urge to drop $300-$800 on a single face cream, they've got you covered. That puts them out of the price range of most mere mortals like myself, but thankfully we still have options in the form of deluxe sample and travel sizes.
Not only are they quite pretty in their own right (and don't knock plastic jars bottles over glass, because well, knocking over glass is a disaster!) they're also much,
much
cheaper when you compare ml to ml vs the full sizes.
Also, investing in a $15 travel size of 30ml- only to discover you hate it- is going to trigger a lot less tears than $60 for 120ml of something that makes your skin ready for a Montague vs Capulet style vendetta.

There'a also something to be said for buying skincare in smaller volumes, which is something I've been toying with lately as a topic of discussion; Go Hyun Jung (aka my skincare idol) throws out her skincare after only a few months to ensure it's fresh, and buying smaller portions of skincare is definitely a sensible way of using things up quickly without wasting money.

Here are my top picks for pretty things under $15:

Sulwhasoo Snowise EX Cleansing Foam 30ml

Pictured above

. I originally purchased this in sample sachets and tore through them all, and then repurchased it in a travel size. This foam has everything I'm looking for: low pH, ridiculous amounts of foam, strong Hanbang scent, pretty packaging. (Seriously, look at that gorgeous stylized flower pattern.) You can read my full review here, which includes ingredients, foam demo, and pH test results:

Low pH & High Luxury: Sulwhasoo Snowise EX Cleansing Foam Review Where to get it:

although the full size is around $36-40 for 150ml on

Amazon

(and elsewhere) , the travel sizes are readily available on eBay: you can get

15ml for less than $10

, or

30ml for $10

, which is what I have.

Sulwhasoo is a treasure trove of under-$15 pretty travel sizes, in fact! I have a few either in my stash or en route.

Sulwhasoo Overnight Vitalizing Mask 30ml

I finally snagged this in a travel size after trying (and loving) a random sample sachet in my stash. I don't normally go for mask packs or sleeping packs as they don't suit my skin, but now that I've introduced tretinoin into my routine, I needed to be prepared for deep moisturizing. I saw Sheryll from the Wanderlust Project

review it

ages ago, and tretinoin's legendary dryness effect was the perfect excuse to pick it up.
I find the scent to be more subtle than the knuckle-and-herb-sandwich punch of the Snowise cleanser, and while it's robust enough to handle my mask pack needs, I don't find that it overwhelms my skin or is uncomfortably heavy.
Where to get it:
I purchased mine from
eBay for around $12
incl. shipping, and it's also available on
Amazon for $10-$12
, but sadly the travel size tubes are not available via prime, just the packets.
Sulwhasoo Clarifying Mask 50ml
I'm currently waiting for this to arrive, as I've already used up all the 3ml sample packets I had. It's an upgraded, elegant version of a peel-off mask; I like to
use a pack brush
for an even, thin coating as it's quite sticky. It has that signature Hanbang scent, it peels off nicely without making me feel like I'm ripping off layers of skin, and it leaves my skin soft and smooth.
Since my travel size has yet to arrive and my sachets are gone, here's an image of the full size and travel size from Sheryll's
review on The Wanderlust Project
:
The sample sachets are difficult to use because the product is so sticky and viscous; the tube should be much easier to work with.
Where to get it:
I got mine on
ebay for $13
, and we won't talk about how much it was on Amazon. The full size is around $40-$60, and the Amazon listings were almost that much for just the travel size!
*side eyes Amazon sellers*
Sooryehan Soo Cheonsam SangWhang Cream 10ml
I purchased this from TesterKorea ages ago, intending to dump the contents and use the jar to decant high-end sample sachets into it, from the brands I mentioned above. However, I had a sudden nasty dry skin spell one day and broke it out of storage as it was the only heavy cream option I had, and to my surprise, I quite liked it as a dry-area cream and used up the entire thing.
Sooryehan tends to have a milder, more subtle Hanbang scent than Sulwhasoo. My empty jar has been misplaced in the move; this is probably for the best as the reflective high shine of the lid (which is gold, not silver, by the way) makes photographing it almost impossible.
Where to get it:
I didn't find it on Amazon or eBay, but I purchased it from
TesterKorea where's it's currently around $5
. Be warned that you will need to factor in shipping when ordering from a Korean retailer; unless you plan to make a large-ish haul the shipping can be prohibitive.
Another item I got from TesterKorea was a History of Whoo travel size:
The History of Whoo Jinyul Cream 10ml
This was also something I purchased with the intent to reuse the bottle, but when I opened it, I was astonished to see that this was not a cream, but a balm. Definitely not something that my then-skin was compatible with, although it smelled lovely and the tiny bit that I scraped with a clean spatula sank nicely into the skin on the back of my hand and smelled Hanbang-y. If I lived in a cold, snowy climate where I was in danger of wind-chapped cheeks, it would be just the thing, so I sent it off to my mother in Canada.
It was indeed the perfect thing for protecting the delicate apples of the cheeks from the winter wind while skiing, apparently!
The History of Whoo Cheongidan Wild Ginseng Ampoule Oil 1ml
Although I've avoided sample sachets for this list, the History of Whoo ginseng facial oil samples are so pretty that I'd happily give them as gifts with no shame at all. Unlike the standard flat packets, the oil comes in a tiny gold foil ampoule which looks quite pretty on its own, and is shaped so it forms a dropper-like opening for ease of use.
You'll see this pop up often in my instagram skincare routines
I actually purchased a set of 10 of these to send to my mother last winter, and kept a few for me to try, even though I was confident my skin hated facial oils. Well, either my skin just has expensive taste in oils, or History of Whoo used unicorn tears in this, because my skin loved it enough for me to repurchase it this year, I've grabbed another set of 10 to split between us; these tiny ampoules last me a long time because I only use 1-2 drops mixed into my creams or masks for added richness.
Where to get it:
I get mine from ebay, where you can get 10ml (1ml x 10) for
$7 incl. shipping
, which is a steal considering the 30ml full size is a whopping $150-$200! You can also get 1ml x 20 packets for around
$20 from Amazon
, but ebay is such a great deal.
The Lust List: pretty things I've been eyeing but haven't tried yet

I've got a pretty terrifying watch list on eBay, and I'm going to share it with you. I have no idea (yet) if these products are any good, I just know that they are: 1. Hanbang, 2. pretty, and 3. less than $15. In they go!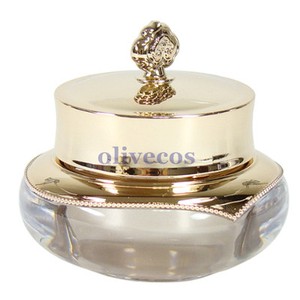 The History of Whoo Hwa Hyun Eye Cream 5ml
$12 from this eBay seller

Do I need an eye cream? Probably not. Do I want this pretty jar? If it looks like that in real life, yep.




The History of Whoo Hwa Hyun Essence 8ml
Auction from this eBay seller
, price unknown
This is an auction, so the price not set, but I assume it will likely end up in that range.
Sulwhasoo Hydro Aid Moisturizing Mist 30ml
$11 on eBay
, image (and listing) from
this eBay seller
.
A Sulwhasoo mist. Get on my face. Don't stop to ask me to dinner first; my dermis is ready.

Sulwhasoo Concentrated Ginseng Renewing Essential Oil 5ml
$13 on eBay from this seller
, also source of this image.
Do I need to try
other
ginseng facial oils when I already have the one from History of Whoo? Er, yes? Did I finally cave and purchase it while making this post?
Maaaaybe?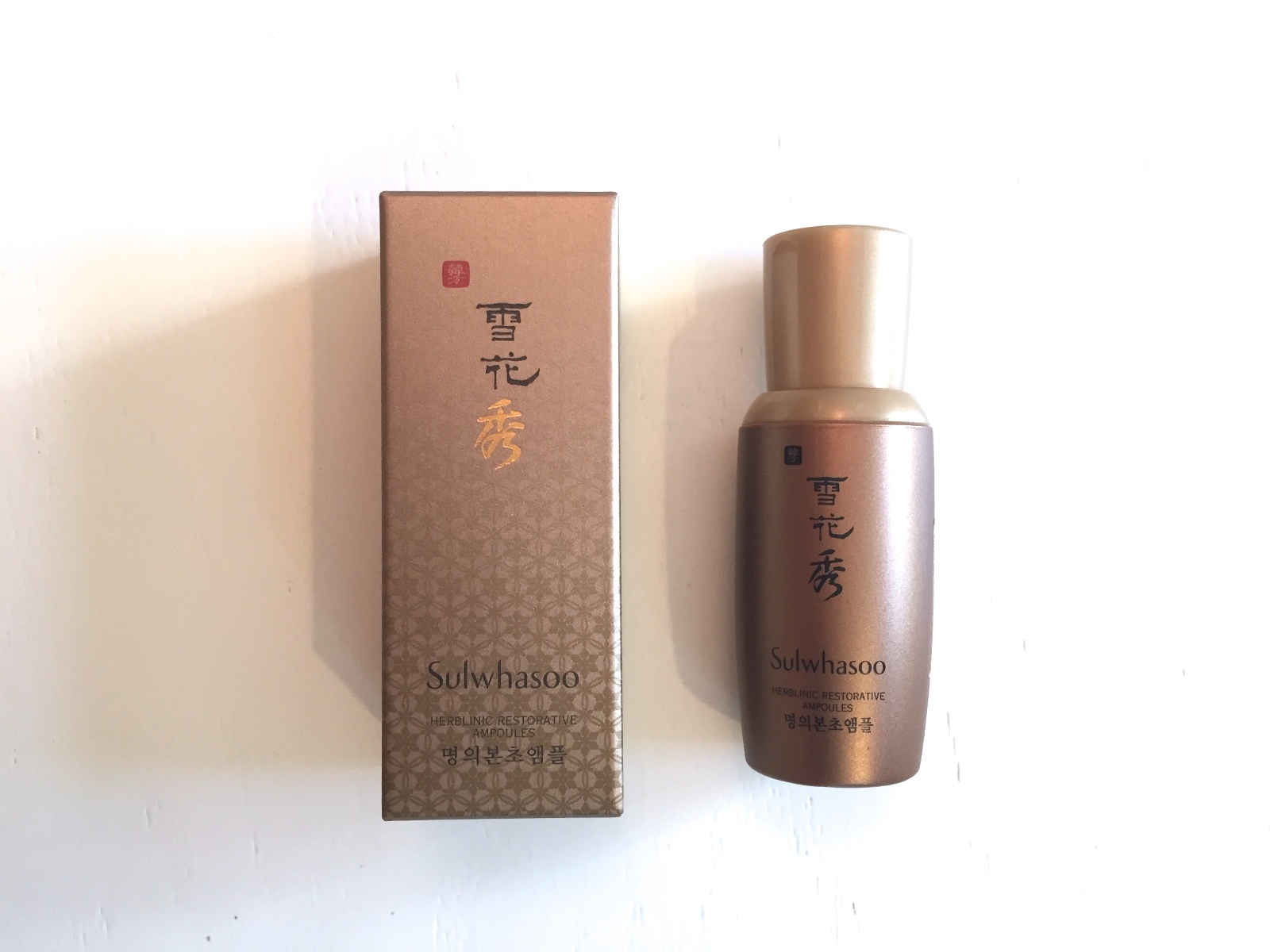 Sulwhasoo Restorative Herblinic Ampoule 5ml
$12 on eBay
,
image from this seller
Herbs x ampoule = yes. What is it? No idea. Dat packaging, though.
These would all make nice little stocking stuffers or a good 'care package' type kit, where one wants to explore a lot of different options without committing to an investment in an unknown product. Somehow I never get around to using sample sachets despite my best intentions (one of the
7 K-Beauty Mistakes
, in fact) but I have found if a deluxe sample is pretty enough, I am more likely to use it.
Next up we have
Full Sized & Wallet Friendly: full size products in the $20-$30 range
if you're looking for something pretty-yet-reasonably priced for a full size holiday gift!
All the best,
-Cat
**
Disclaimer: All products reviewed/mentioned in my blog, are 100% purchased with my own money, with a single exception of a press sample I tested & reviewed in 2015 which swore me off of them forever. This blog contains both affiliate and non-affiliate links, and clicking the former before you shop means that this blog may receive a small commission to assist in this blog supporting itself. Please see my Contact Info & Disclaimer policy for more information.