One of the most common requests I receive (blog comments,
Instagram
,
Facebook
, email, you name it) is where I buy my beauty products. I do have several guides which I will link in this post, but it seems that a lot of people just want a straightforward list of shops that they can start with. So, that's what we're going to do today!
I will be loosely categorizing the shops, but please keep in mind that anyone can buy from anywhere for any reason, these are just how I'd quantify the different shops that I have purchased from, or have plans to purchase from, or would happily recommend to someone looking for something they carry.
In this post:
Good for: Beginners, Lazy and/or efficient people, Instant gratification seekers, People concerned about counterfeits, Patrons of small business owners

Good for: Small haulers, Pinpoint purchases, Deal-seekers with finite patience, People who are annoyed by shifting shipping costs.

Good for: Deal-seekers, Moderate yolo-ists, People who don't know Korean, Large haulers, Comparison shoppers, Devotees of spreadsheets & min/maxing items vs shipping costs

Buying Services & Korean Sites
Good for: Advanced users, Thrill-seekers, Hardcore yolo-ists, Spreadsheet nerds, Self-aware K-Beauty hipsters, People who know Korean, Masters of Google Translate, Deal-seekers with infinite patience

All of the sites listed are places which I have either purchased, or would happily purchase from based off feedback from people I trust.
Domestic Retailers
Good for: Beginners, Lazy and/or efficient people, Instant gratification seekers, People concerned about counterfeits, Patrons of small business owners.
Domestic retailers are shops based in your country of residence, who carry K-Beauty (and Asian goods) and thus allow you to buy domestically without worrying about international shipping costs, shipping wait times, and customs fees.
As I have only purchased K-Beauty since living in the US, my experience is going to be limited to US-based shops and a Canadian shop or two. For recommendations on shopping in the UK, I recommend checking out
these posts by UK blogger adoredee
, as the customs challenges of the UK render domestic UK shops untenable.
I've only recently started purchasing from US-based retailers, as I've always been a deal-hunting, research-based type of shopper. However, last year I realized that that doesn't suit everyone, and that I was unable to answer people's questions about US-based shops I could recommend. So, last year
I made some changes
to my blog that would allow me to explore those options. That's why you'll see this disclaimer on applicable posts:
Just as a quick reminder: this blog uses both affiliate and non-affiliate links, and if you choose to click the fomer before you shop, your purchase may contribute a tiny amount to the maintenance of this blog. See full details at the end of this post! #receipts
This in no way means that I'm getting any sort of significant income from my blog (you can
read about how little it is here
) but it does mean that it helps offset the cost of things I do purely in the name of science/blogging. Things like purchasing from domestic shops that I consider to be "overpriced" compared to what I can get from my hardcore straight-from-Korea methods, so I can put them through their paces and review them for my readers.
Before I list out shops that I'd be willing to recommend to people, I just want to take a moment to be #real here.
I admit it, I don't like most US-based shops. I have serious misgivings about how they twist the narrative about K-Beauty in the west, about how they take credit for innovations and trends they didn't earn, how they steal ideas from the international community and bloggers without credit, how they gouge customers with markups that are far, far beyond KR prices + KR shipping + reasonable overhead, how they spend overhead money on marketing and social media stunts to drum up interest in mediocre products that they're being paid by Korean brands to "incubate" for them, and then pass those costs onto their customers.
Yes, Mizon is available through many US vendors, including Target, but authentic Mizon for $12 with free shipping makes it hard to justify buying it for 400% markup domestically. Screencap from roseroseshop.com
I'm not really OK with that, although some people aren't bothered by it ('tis business, after all.) I'm fine with reasonable overhead cost-driven markups; when I buy from a US shop, I expect to pay $5-$10 above what it would cost me (including international shipping) to get it from Korea. I think that's reasonable-- I am paying for the convenience and speed of domestic shipping, for instant gratification, and in some cases if I trust their word, the curation of good items. I'm also paying, perhaps most importantly, for excellent customer service: smooth communication, quick response within 1-2 business days, and for them to handle any issues with the product or my order promptly. However, if a $8 snail cream is being marked up to $38, and it's a big shop that devotes a lot of its budget to marketing themselves and the promotion of products from its brand partners, that's not the kind of markup and overhead I want to support, and thus those kinds of shops won't be on this list.
If I'm going to shop from a US-based shop (or a Canadian shop) I prefer to support small businesses that I know are living right. I still get to benefit from the fast shipping, good customers service, and convenience of a US shop, but with the extra fuzzies of encouraging small businesses.
The lure of 2-3 day domestic shipping; I can't deny it's attractive, but is it worth it?
Here's a list of "domestic shops living right" that I wouldn't hesitate to recommend:
Insider Beauty

(US): Free US shipping over $35, 10% off order for signing up with their newsletter, has a small but decent selection, often has 20%-30% sales during major holidays. I've purchased a few things from them. Their cushion selections are priced almost the same as what I can get from KR directly, and they carry the lightest shades (#11 & #13) in their cushions, which is very rare. Most sites, including major US retailers, only carry #21 and #23. My order came wrapped in the lovely packaging shown above, with a little hand-written note. IB also has a mini-blog where they talk about concepts and trends.
Mishibox

(US): Free US shipping over $40, often has 20%-30% sales during major holidays, predominantly a subscription box shop but I've just made regular purchases there. Mishibox is also fairly active on social media and does really adorable, customer-centric things like offering people a choice on high-pH cleanser substitutes in their boxes, and including extra stickers in their boxes because people liked their stylized bunny design. Mishibox has been on my radar for a long time, as they've been exemplary in listening to what their customers want and adjusting their approach based on the feedback.
Beautibi

(US): Free US shipping, Free Canadian shipping over $100. Known for expensive, ultra-fancy masks like L'Herbaflore and Maskingdom. I have yet to purchase from Beautibi, but people I trust have repeatedly purchased from them, such as fellow Snailcaster Fiddy Snails of 50 Shades of Snail and my NC/NW45 lip swatchin' bestie @kuro_nyanya, and several fellow Asian beauty product peeps who would probably stab me if I linked their personal IGs as they're not bloggers or IGers. Fellow Snailcaster Tracy of Fanserviced-b is also a fan:
Bisou Beauty Bar (Canadian): Free shipping to Canada and the US over $65 CAD ($48 USD) with a nice selection of popular items. Bisou is located in Canada (Ayyyyy girl! Holla!) but plenty of US-based AB (Asian beauty product) fans purchase from them as sadly the CAD-US exchange rate makes their USD prices quite affordable. Bisou is possibly the most adorable NA-based vendor I've ever interacted with; they don't know it was me, but I recently teamed up with some friends to send a secret care package to a friend in Canada, and we let Bisou know it was a care package/gift and could they include a note? They seemed genuinely excited about our fairy snailmother gift and were very sweet about it. I've yet to make a solo purchase, but I've made a few group purchases from them and they've been stellar every time.
Bisou is precisely the kind of small, genuine business that I like to support; they're focused on doing one thing and doing it well, namely being a shop that curates good items and takes care of their customers.
Imomoko (US): Free US shipping over $99, but their domestic shipping rates are reasonable. (They also ship internationally, but if you're going for an international order, I'd recommend just ordering from KR directly or using ebay.) I've only ordered from imomoko once, which was masks, but I didn't have any issues. I ordered during a 30% off sheet masks sale and thus got Korean pricing with US shipping times, so obviously that was a win! I've limited experience with them other than that single order, so take that as you will.
Official US sites I've purchased from:
Club Clio (US): Free shipping over $50. Occasionally has 15-30% sales posted on their social media; this site isn't technically an online retailer, it's actually the physical official store(s) located in NYC, and this is the site associated with those brick-and-mortar locations. I've purchased from here a few times, including items that weren't actually available online but were available in-store and I was able to buy via email. Keep in mind that this site is essentially an add-on or afterthought to the main store; don't expect the sleekness and functionality of a full-time e-tailer's site when you are navigating and buying. Zero risk of counterfeits, though!
Domestic e-Markets

Good for: Small haulers, Pinpoint purchases, Deal-seekers with finite patience, People who are annoyed by shifting shipping costs.

Domestic e-Markets sounds really dang fancy, but I just mean

Amazon

and

eBay

. Did you know that

Amazon has an entire section devoted to K-Beauty

? Times, they are a-changin'.

There are some products I just snag from Amazon because, well, Prime gets me 2-day shipping, and heyooo! I also often snag sample sets from Amazon. Amazon is more expensive than eBay, which I think goes back to their more stringent regulations about fakes (especially with Prime; a friend of mine occasionally sells random goods on Amazon Prime and she's full of horror stories about how Amazon will come for your soul if you sell counterfeits) plus the fabulous perk of 2-day shipping.

If I want to make 'pinpoint' hauls, namely 1-2 specific items which I've already researched and decided to buy, I'll always check Amazon and eBay to see how much it would cost to source it there. They're often cheaper than US shops as the sellers are usually from KR, so prices will be low and shipping durations will be high. If they're a US seller, expect the reverse.

Here's my top three picks for Amazon/eBay but

my favourite way to use eBay is to buy travel sizes

, which are something

I'm seriously obsessed with lately

.
#Receipts: look at all those empties.

Mizon AHA/BHA Daily Clean Toner

, which is a long-time staple as evidenced by repeat empties in this photo.
Where to get it: Amazon Prime for $20 | eBay for $18
Read more: 2015 in Review, Part I: My Favourite K-Beauty Products of 2015, Review: Cosrx AHA / BHA Clarifying Treatment Toner vs Mizon AHA BHA Daily Clean Toner
Beauty of Joseon Cream

, which was unknown when I discovered and reviewed it in early 2015, but now it's so popular it's widely available. This section is only about Amazon/eBay options but you can see other sources here: Beauty of Joseon Dynasty Cream; a Hidden Gem
Where to get it: Amazon Prime for $20 with free shipping | eBay for $20-$22, if you are looking for a legitimate ebay seller, this is the ebay listing for Jolse's ebay store. Jolse is a KR site that I'll be discussing later in this post.
Read more: Beauty of Joseon Dynasty Cream; a Hidden Gem
My Scheming silk sheet masks

, recommended to me by fellow Snailcaster Fiddy Snails of 50 Shades of Snail, are comparable to the much more expensive Lovemore masks, albeit with a less refined silk but a lot more essence.

Where to get it: In boxes of 10 masks for $15 on Amazon. and $1.50 per mask/$16-$18 for a box of 10 on eBay.
Read more: 2015 in Review, Part I: My Favourite K-Beauty Products of 2015, I also most my routines + daily sheet mask on my Instagram, as well as mini-reviews of sheet masks.
As I mentioned earlier, I'm really loving eBay for travel/deluxe sample sizes, so I can get a cute package in a small volume that I can use up quickly without wasting any product. You can read more here:
Hanbang for the Holidays Gift Guide I: Little Luxuries Under $15
Obvious, counterfeits are a risk when you are buying from unknown 3rd party sellers on Amazon and eBay, so I recommend you look for sellers with high volumes of positive feedback, and I always purchase via Paypal so I have a double layer of protection through both the site's buyer protection and also Paypal's buyer protection.
The other perk of eBay is that it's international
; anyone can purchase from their domestic eBay site and be able to see their own shipping costs, currency conversion, etc. That's also the perk of the next type of shop, which was my mainstay until I fell down the rabbit hole of ultra-hardcore shopping.
International Retailers
Good for: Deal-seekers, Moderate yolo-ists, People who don't know Korean, Large haulers, Comparison shoppers, Devotees of spreadsheets & min/maxing items vs shipping costs.
There are a lot of international shops that I've purchased from, and I'm going to warn you right now, you are going to be exchanging the ultra low list pricing and staggering, breath-stealing, always-expanding variety of options for customer service headaches, stilted and delayed communication, hair-pulling shipping estimates, and some truly WTF product descriptions, if any. What's XYZ product for? Better get googling, because there's no guarantee that the English copy on their site is going to be accurate.
That being said, there is a range of "most expensive but customer-friendly" model to "take a shot before you checkout" and we'll start with the former.
Jolse: Free worldwide shipping, wide selection, and intermediate prices. You might look at other international retailers and wonder why Jolse's is consistent a few dollars higher; that's because Jolse uses the same sort of set-up as eBay listings with free shipping, namely that the cost of shipping is already factored into the list price of the item. In fact, if you create a cart full of items on Jolse and the same cart of items on other major international retailers, you will notice that once the shipping is factored in, it's comparable.
Jolse is also known for having really strong customer service, responsive and clear communications, and an approachable, friendly reputation. You can read more about why here: 'Jolse Is My Bae' Haul, Thoughts on Hauling Responsibly, & Skincare as a Hobby. If someone was looking to dip a toe into international shopping and grab a few items, but was really nervous and intimidated, Jolse is the place I'd recommend they start.
They don't have the largest selection out of the retailers, but their selections are definitely more tightly and deliberately selected; I can't confirm it but I think they may warehouse their own stock rather than the demand-then-supply model of other retailers. That means that they ship out more quickly, because they actually do have the items on-hand, and they'll let you know/refund you more quickly if they don't have an item in stock. They also tend to be generous with their samples and free gifts, compared to other retailers.
Sasa.com: Ships from HK, free shipping over $75, but shipping to the US is only $6. I mostly buy Taiwanese masks from Sasa, although they do carry a lot of Korean and Japanese brands as well. Sasa frequently has special offers and discount events, so I keep an eye on their sales in case I need to stock up on silk masks. This is usually the first place I recommend that people head off to if they're interested in hauling a lot of silk/taiwanese masks.
BonjourHK: Ships from HK, free shipping over $75, otherwise US shipping is around $5. (Canada would be around $6, heyoo!) I've ordered some mega deals from here, including LJH products at cheaper rates than I can get from KR with a buying service. They're also a great place for Taiwanese silk masks, like Lovemore packs of 5 masks for $9 USD (vs $20 or more via US shops) but there seems to be some shenanigans going on with the HKD to USD conversion on super heavy items. I suppose it makes sense for them to pad out their list prices on really heavy items as their shipping rates are so low, but it still makes me grumpy. Make sure you chose "Delivery: Overseas" from the drop down (shout-out to Tracy of Fanserviced-b for the tip!) to see the actual prices for your items, as they may be different than Google's currency conversion. Still, a deal is a deal, and if comparison shopping shows that price + shipping is less than I'd get it for elsewhere, why not?
KoreaDepart: Does not offer free shipping, but does have a lovely shipping table and estimated weights so you can easily manage your shipping estimates as you go, letting you see that extra sheet mask is pushing you into a higher shipping bracket. KoreaDepart is also a vendor that has a really huge variety and a reasonably organized site if you want to browse; their search is not always very friendly but everything is translated and occasionally there are partial ingredients lists.
KoreaDepart ships fairly quickly and I've never had an issue with my orders; my orders with them came complete with a free sheet mask and samples. I am not sure how they handle customer service issues as I haven't had any issues, so I'm afraid I can't comment on that front. If someone was looking to "browse for unique stuff from Korea" and they're willing to put in a few hours digging around, KoreaDepart is where I'd steer them.
RoseRoseShop: Select items have free shipping + a single tracking cost for the entire order, otherwise, brace yourself. Unlike other retailers, including Jolse, who pad out their list prices with some of the shipping cost so that people don't turn the colour of a dying seagull and make enraged whale noises when they see their shipping cost, RoseRoseShop is going to give it to you straight. Prepare yourself. Gird your loins. Buckle your sword belt. Etc, etc.
Cart comparisons are key here. Rack it up against other vendors. RRS often has the reliably cheapest, yet still legit, prices out there, due to aforementioned undiluted shipping charges. They also use shipping brackets, so if the shipping tiers go from 100g to 300g to 500g, and your package is 302g, you're no longer in the 300g bracket, baby. You're in the 500g bracket, and the shipping costs are getting real. Too real for most people to handle. There's no shipping table either, so your single sheet mask did in fact just jump your shipping cost from $9 to $12, not because your mask comes in a steel package, but because it's tripped you over the bracket line and knocked you into a higher bracket.
Hence, compare your cart. If your cart is $136 from Vendor A, with $120 in items and $16 in shipping, and the same cart from RRS is $128 with $98 in items and $30 in shipping, now is the time to let go of the idea that you are getting "ripped off" by shipping-- clearly the overall cost of RRS is lower, but you're getting that face-full of the undiluted shipping cost. Also, RRS is not going to be giving you the full-service customer experience of more expensive retailers like Jolse, so be prepared for baffling email replies, delayed responses, lost internal messages, and frequent misuse of the word "discontinued" to explain your item is out of stock.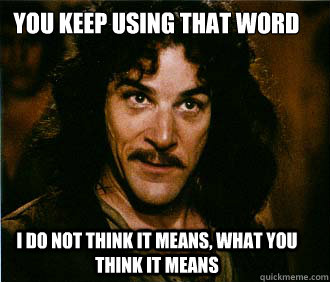 Image credit: quickmeme.com
RoseRoseShop does, to my limited knowledge, have a warehouse where they keep some of their inventory, but I suspect that some of their listings are a demand-and-supply model. Meaning they order the items their customer have purchased after checkout, which means delays in orders shipping out because they are waiting for stock or restock of the items you've already paid for. This is why you might be waiting a week or longer, only to be suddenly told that the item is "discontinued" or "out of production" but don't panic, what it really means is that their supplier did not come through with the goods.
TesterKorea: I am struggling to come up with a SFW analogy to describe my conflicted relationship with TK. I have purchased, and will likely continue to purchase, from TK, but not by choice-- it's because they're the only ones who have a specific product that I just can't find anywhere else, or that it's so monumentally expensive elsewhere that it just doesn't make sense to avoid it. TK has a wide selection of items, a reasonably organized site, and a feature where you can request items you would like them to carry. Their customer service has been good when it comes to issues like an exploded lip tint, and they've always responded to financially-based issues, mix-ups in destination addresses when I shipped something directly to a friend in the EU. So why the misgivings?
Order delays. Dear snail, the order delays. One of my orders took 53 days from when I paid to when I received the item, most of which was a delay in processing, meaning my order languished at their office for about 3 weeks before they even shipped it out. Most TK orders I've made take a month or longer to arrive. This is standard, according to social media and the international K-Beauty community peeps I talk to, so prepare yourself before you order. Also, TK uses shipping brackets, so be aware of that factor as you shop. I also suspect that TK has a demand-and-supply model (a form of drop shipping, except still shipped from their office), which would explain why people endure weeks-long delays only to be told their item is out of stock and are refunded, and then their order ships out. I also find TK is sometimes priced quite high compared to other KR sites; often their price is the "suggested retail" price, rather than the actual market price of the item. Still, there are times where the only place I can get my grabby, sweaty hands on specific items is TK, so I deal with the downsides if there's no other option.
Let's say, though, that you've worked your way up from pre-curated domestic shops to a steady diet of international retailers, and you've got some Hangul under your belt and you're excited by the prospect of a wild night with your spreadsheet-- you feel ready to tackle the final difficult rating:
Buying Services & Korean Sites
Good for: Advanced users, Thrill-seekers, Hardcore yolo-ists, Spreadsheet nerds, Self-aware K-Beauty hipsters, People who know Korean, Masters of Google Translate, Deal-seekers with infinite patience
Ayyy, now we're in my
zone
. I recently teamed up with Tracy of
Fanserviced-b
for a very special podcast episode of
The Snailcast on "Hardcore K-Beauty" shopping
, because our fellow snails were unavailable and if we're left to our own devices, we usually get into trouble. Trouble of the shopping variety, usually involving purchases of weird things in the name of science. Er, blogging. Science of blogging? Whichever.
If you want to start things off with a controlled burn of your wallet, I'd go with her latest site obsession:
Global Interpark's Free Shipping Section: Free shipping on all items, up to a maximum (I hear) of 5 items per order. Thankfully (?) only a few items are listed on this ever-revolving selection, but unfortunately (?) they're often really good items.
I have yet to purchase from Global Interpark, because there's nothing on there that grabs me by the nether hairs and won't let go ... at least none that I don't already coincidentally own. Global Interpark's page is mostly translated, and only somewhat difficult to use. Keep in mind only the items on the free shipping page are free shipping; you will swiftly face the demons of high shipping costs if you stray from the safety of the forest path.
If you're ready to stray off the path and become the one who knocks, here are my usual haunts:
11st English Site: The English version of Korean e-market 11st, this beast can bring you deals and good fortune the likes of which you've never seen, but it's not easily tamed. Bring ropes, bait, and the Google Translate Plugin. (Also, it's 1 am 2 am 3 am and I've been writing this post for 14 15 16 hours, so things are going to get weird around here. Sorry!) EMS shipping only, which means those shipping costs are going to be the likes of which you've skated around in shipping charts, wondering who on earth would spend $60 on shipping.
However, 11st occasionally has some really amazing shipping coupons which take the edge off their shipping costs, so if you're the kind of nerd who learns Hangul just to shop smarter and gets excited at the prospect of entering formulas in excel to help you min/max your potential savings, 11st is going to be exactly the kind of challenge you're looking for.
Don't be scared, I've made a screenshot by screenshot guide here: Level Up Your K-Beauty Obsession: a Guide to 11st + My 1st 'Real' Cushion!
I've just recently hauled again from 11st using a 20,000 krw off EMS shipping with minimum purchase of 50,000 krw, which works out to around $40, so it's very manageable. You can see a breakdown of what I purchased and how much I saved here: Weekday Randomness: 11st Mini Haul ft. Books, Sheetmasks, & Massive Savings
Let's say, though, that you've got your eye on some items that are new releases from Korea (maybe you read Joan of
Kinseng
's blog) or special items that you just can't get anywhere. Maybe you see that domestic Korean sites, which don't ship internationally, have the items you want at prices that put stars in your eyes and lust in your heart.
That's where buying services come in!
If you have not used a buying service before, I highly recommend you check out these posts:
Buying services are a proxy purchasing method; you pay a fee to a proxy in Korea to purchase the items you want and ship them to you. You pay any and all fees involved in the process, including the price of the items, domestic shipping fees, taxes if applicable, shipping costs, customs fees, and any currency exchange or paypal fees. They're excellent for when you know exactly what you want, because you're going to have to supply a URL link to the item you want them to purchase for you.
I've used three buying services to date, and I'll be reviewing the third when I receive my package, so for now, this is the only one I will be listing.
Avecko: an established buying service which charges 10% commission in exchange for taking care of purchasing all your items and sending them to you. I have used them several times, and while they went through some growing pains in 2015, they're still the most tenured game in town. I have learned the hard way that buying services can crop up and disappear very quickly (see here for the Tragic Tale of Dowaja) so keep that in mind when picking one to use.
Avecko has really streamlined their service, which makes sense for their minimal 10% commission fee.
There has been an additional Korean buying service that has cropped up lately, but I had misgivings about them based off the ... vigour of their approach. I prefer to explore things as a consumer, not as blogger, because I want to be sure I'm getting an authentic experience and not just bloggerservice. I decided to give them one final chance and contacted them as a user (not as a blogger) and unfortunately was totally ignored. Ah well!
I do have high hopes for the buying service which I stumbled across organically; my goodies from them are in transit so look out for those updates. There's going to be Hanbang sheet masks and random weird things, and I couldn't be more excited. My body is so ready!
Update: she's amazing and I'd definitely recommend her service, read more here:
Amy is also a very small, personable business compared to the smooth, impersonal transactions of Avecko, and I'd happily use both. I'm already planning what my next Boyah Shop order is going to be now that she's back from end-of-term exams.
And there's the end of the list! I hope that this has been helpful for those of you who are eyeing some of the more challenging options but were nervous about giving them a shot.
Have a story of how you evolved from a tender beginner to a boss-slayer on ultra difficulty mode? Hit me up on
Facebook
or
Twitter
and let me know!
Have something you'd like to share with me in general? Snap a pic and tag me on Instagram at
@snowwhiteandtheasianpear
because I'd love to see it!
All the best,
-Cat
**
Disclaimer: All products reviewed/mentioned in my blog, are 100% purchased with my own money, with a single exception of a press sample I tested & reviewed in 2015 which swore me off of them forever. This blog contains both affiliate and non-affiliate links, and clicking the former before you shop means that this blog may receive a small commission to assist in this blog supporting itself. Please see my Contact Info & Disclaimer policy for more information.