I use Korean buying services a lot, probably more than your average K-Beauty fan, for reasons ranging from "I'm a spreadsheet nerd who likes to min/max my costs for the best deal" to "I'm dangerously close to being a K-Beauty hipster looking for the next obscure thing" to "I like putting weird things on my face." I've used 3 Korean buying services to date, and liked all of them, and today I'm going to review
Boyah Shop
. I'm also going to post some haul photos, as peeps requested on my
Instagram
.
I suppose the caption of this is a bit of a spoiler, heh.
In this post:
How a buying service works
What Boyah Shop offers
My experience with the ordering process
What I bought
Would I recommend their service
Also featuring some gratuitous unboxing photos of my goodies, because that's how I roll.
How a buying service works
Buying services are a professional version of "a friend who lives in Korea who proxy ships you the things you want to buy there." Just like a friend who pops down to a local store to snag something for you-- you tell them what you want, you send them the money to buy it, they pick it up for you, and then you send them the money for the postage to your place.
This lets you snag things at the actual retail price and not a massively inflated mark-up, or which aren't released internationally, or can't be sourced easily from your usual haunts. Limited edition, seasonal, and brick-and-mortar-only items are all tricky to get without a buying service, which is why they're so handy.
My Boyah Shop order arrives, complete with handwritten note! It's pacman stationary with little ghosties! Cuuuute!
In return for all this running around on your behalf, dodging overeager salespeople, twirling their domestic credit card for KR-card-only-sites, and battling customer service issues for you, is a small commission for their time (usually 10-15% of your order). Boyah Shop undercharges for her service, in my opinion, and I hope she adjusts her rates to be a bit more sustainable so she does not Die From Too Much Love At Once like Dowaja did not
48 hours after I posted my review
of their service.
Buying services work best
when you know what you want
already. If you don't know what you want and/
or you don't speak Korean
, I recommend you start here:
Guide to Avecko's buying service when you don't know Korean, ft blogger Kahime
What Boyah Shop offers
Luckily, Boyah Shop has a very clear and simple explanation of their process
on their "How It Works" page
. They offer both online shop and offline (local brick-and-mortar) shop proxy purchasing, as well as locating products for you. Their rates are extremely low (in my opinion) for the service that they offer, and they have a
shipping chart right on their site
(bless them!) so you can see up-front how much you might be paying for shipping.
I know I sure as heck wouldn't be charging just $5 get off my couch and commute to a local shop to buy an item, not to mention the collecting, organizing, packing, invoicing, and shipping of orders.
Shipping is always the killer when it comes to ordering from KR, so be wary of counting your chickens before they hatch- if you're scoring a great deal on a product that is $10 off retail from a regular KR shopping site (like the ones I have in my
From Beginner to Expert Mode: Where I Buy K-Beauty & Asian Cosmetics
guide) you might be paying back that same $10 (or more!) on the shipping cost.
My experience with the ordering process
Are you ready to hear me squee a bunch? If not, brace yourself, the squee is coming. Amy of Boyah Shop is the cutest vendor I've ever worked with, and there are some seriously adorable vendors out there (like
Bisou Beauty
, whose cuteness gave me jazz hands in my
From Beginner to Expert Mode: Where I Buy K-Beauty & Asian Cosmetics
guide) and this was usually me after I finished my conversations with her: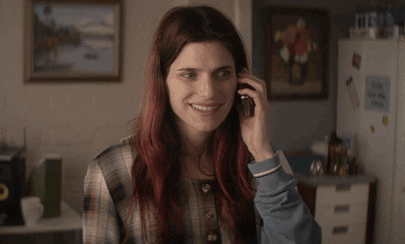 OMGGGWASDGSRFGFHFLFK SHRIEEEEK! SHE'S SO CUUUUUTE! AHHHHHH! *flops over*
image credit giphy.com
Most of our communications took place via DM on
her Instagram
, and her messages made it very clear that although her site is well-done and very professional (clear, concise, easy to navigate) she herself is clearly a
person
. An adorable, funny,
real
person. She gets excited about things, cracks jokes, and talks to you like a real human being.
Moreover, she just simply ... appeared. She did not contact me, or post all over my social media, or otherwise attempt to catch my attention. She just appeared on Instagram, followed me, and then quietly carried on doing her thing on IG-- which included snapping photos of
various sheet masks
on the shelves of the store in which she was shopping:
I screeched to a halt while scrolling through my IG feed when I saw these, because I've been stalking these hanbok masks for a very, veeeery long time but was unable to find them at an affordable price + shipping cost. They're also Hanbang (aka traditional Korean herbal medicine) so they need to
get on me
. Immediately.
Her IG said to DM her with inquiries, so I immediately
slobbered all over
lusted after
asked about those masks. How much were they, and how can I get some? She replied back within minutes, saying that she was actually still at the store, and the masks were in boxes of 5 for 5,000 krw ($4.30 per box!!!), and they come in 4 flavours.
This was my response (after I calmed down) when she confirmed that yes, she could invoice me for them and pick them up for me right then and there:
Screencap from my DM order with @boyahshopkr. Also, Amy clearly gets me.
Sold!
I ended up doing a combination of items from the store she was DMing me from (she literally snapped me photos of a few things and I yolo'd some that looked promising) as well as my current shopping list of a few online domestic KR-only sites. I submitted the online item request via her site's
ordering page
, and made a note that it was the same order as the in-store items she had acquired for me.
She invoiced me promptly for everything, and kept me updated on my items. When everything arrived,
she snapped me a photo of all of it
which I really appreciated.
Do you see this cute? So cute. Too cute.
I can't even. I couldn't then, and I still can't now.
After I confirmed I was ready for her to ship them out, she then offered me shipping options-- I went with the cheapest as USPS has stopped tracking KR items unless you pay for EMS, so sadly tracking is now pointless.
Since my items are/were quite heavy, I was surprised that my shipping was so low, comparatively speaking; I was expecting to pay a good $30 or more for my order.
I'll be providing a breakdown of my costs later on; a good rule of thumb is to brace yourself for $20-$30 for a small order, and up to $60 for a large order. Factor that in when you are shopping around so you don't get sticker shock later!
Of course, before she shipped it out,
she had to slay me with the cute first
. It wasn't enough to have:
Great customer service
Fast response times
Good product suggestions
Cheaper alternative sources for my items which saved me money
Simple ordering system and mobile-friendly site
Smooth, personal communication
Fast shipping once my items had arrived & I chose my shipping option
Oh no, it wasn't enough with just the above, she had to break out
the terminal levels of cute
while she did it, which had me rolling around on the floor shrieking with delight like a guinea pig high on too much kale, and frantically texting
The Snailcasters
(Tracy of Fanserviced-b really kicked off the K-Beauty buying service craze with her
post on ordering from Avecko
, way back in 2014) with inarticulate messages gushing about how unbearably adorable she was.
As I mentioned above, I purchased the masks that she posted on her Instagram, as well as few other items from the store she was in + online items I'd had in my shopping list. Here they are unboxed:
Look at those glass bottles with the subtle flower etched onto the glass!
Here's a breakdown of my items from top row to bottom row:
Cremorlab T.E.N. Cremor Refreshing Cleansing Gel Oil ($19, retails @ $32)
First up as replacement bottle of the only 1st cleanser that doesn't break me out, aka the
Cremorlab T.E.N. Cremor Cleansing Gel Oil (reviewed)
, and is also (in)famous as the only press sample product I've ever written a review of. I'm seriously not into press samples (for all the reasons detailed in that review) and I've sworn off them as a result. (See more below on what I do instead so I don't end up spending my student loan repayments on sourcing and testing new, unknown products.) It came with a mini pack of Cremorlab makeup wipes, which is handy as I do use those when I'm desperate.
LS Cosmetic Oriental Herbal Skincare Premium Mask Pack - Wild Ginseng x 5, Chaga Mushrooms x 5, Shang Whang Mushrooms x 5, & Silk Worm. ($4.30 per box of 5, retails @ $2-3 each)
They're Hanbang sheet masks, 'nuff said. Being in an adorable hanbok-shaped package was just an extra perk. I've already used the ginseng type, and although there are some drawbacks to the masks, it hanbanged me so hard I wandered around in a ginseng-scented daze for the rest of the day. I can't wait to try the others. It did have an unfortunate side effect-- it's a very effective man repellant, because every time my husband wandered over to be affectionate, he'd get within an inch of my face and then freeze when he smelled the ginseng. Then he'd snort and rear back before retreating to a safe distance and look aggrieved, like a horse with the memory of a goldfish because he'd forget within 20 minutes and history would repeat itself. This was both really entertaining to watch, and also served as a way to measure how long the scent lingered-- it was at least 8 hours, and he glowered at me before he went to bed and turned down my offer to tuck him in for the night.
Xai Cosmetics Korea Bo-in High-Moisturizing Jeong-Yoon Balancing Emulsion + bonus matching cream ($2.50, retails @ ?? I estimated $15 based off eBay listings of similar products.)
I purchased this emulsion because it was 1. on the shelf in front of Amy and she'd snapped a photo of it and posted it in front of my dazzled eyes, 2. it was Hanbang, and 3. it wouldn't be a Snow haul if it didn't involve some sort of yolo'd Hanbang product. (That's how I
brought the Joseon Dynasty cream to the international K-Beauty community last year
, after all!) It came with a bonus cream, and the bottles are absolutely gorgeous. The glass bottles have a lovely flower etched right into the class, and gold detailing. Emulsion bottles are the most annoying packaging in K-Beauty (Fiddy of
Fifty Shades of Snail describes it as trying to get the ketchup out of a ketchup bottle
, which is so accurate) but when the bottle is this pretty, I don't even mind.
Son & Park Lip Crayon #09 Wicked Burgundy ($9.50, retails @ $23)
I have a weakness for deep wine/plum/berry shades; I'm already a fan of
makeup artist duo Son & Park
, but I have yet to try any of their products. I'd been on the fence as I'd heard mixed reviews of their lip cubes (
Beauty vs Zombies always has great Korean lip swatches and reviews
) but good things about their lip crayons; after reading
Korean Beauty Dream's review+swatch post
I was ready to snap this up.
Jung Saem Mool High Color Chroma Lipstick in High Plum ($22, retails at $28)
I've watched, learned from, and admired top Korean Makeup Artist and beauty trendsetter
Jung Saem Mool
for years, spending hours devouring her
makeup and skincare technique tips on youtube
. In the last few years, she's started branching out into makeup, but it's both expensive and hard to source. There are not a lot of swatches out there (if any) and they're certainly not available on a range of skin tones. For that reason, I was determined to invest some research funds (
that's what any affiliate link commissions go toward
, in fact) so that I could
brutally hack up this beautiful lipstick
and send out decants of it to my lovely friends of
varying skin tones so they can swatch it for me, like we did here for the Clio Tension Lip in Some review
.
Total cost?
For all her trouble, I paid less than $6 for her buying service fee, and with the Paypal currency conversion cost + $18 shipping, my total order with all items was just $98.57 with a value of a little over $200 at best estimate. That's assuming I'd pay exactly the same for shipping or get free shipping on products from the various sites I'd have to order from. Score!
Would I recommend their service
Um, run there, don't walk. If you're in the market for a buying service but you're too intimidated to use more established, streamlined, impersonal services like
Avecko
, or you just want to soak up the cute like parched ground waiting for a spring rain of rainbows and kittens, I'd highly recommend her service.
Just ... please don't die if people love you too much, Boyah Shop, because using your service is like being swarmed by fluffy bunnies in a cuteness stampede, but bunnies who find you great product deals, communicate smoothly, and fast, efficient service instead of whisker kisses and floofy headbonks.
Here's another thing that sets Boyah Shop apart: Amy gets me
. She is clearly a beauty product fan in her own right: ogling
products she plans to buy herself
, making recommendations that I'd actually like, posting
new finds
while she's out and about shopping, making
care packages for her friends
in NZ, and joking with me about our perennial plans for hauls. That personalization is everything-- I don't feel like she talks to me like I'm a customer she needs to please in order to secure purchases, she talks to me like a fellow beauty product nerd and I love her forever for it. It just means that I'm going to be pelting her with my wallet on a regular basis as an expression of that love.
Have you used Boyah Shop or have a buying service haul you really loved? Hit me up on
Facebook
or
Twitter
and let me know! Have something you'd like to share with me in general? Snap a pic and tag me on Instagram at
@snowwhiteandtheasianpear
because I'd love to see it!
All the best,
-Cat
**
Disclaimer: All products reviewed/mentioned in my blog, are 100% purchased with my own money, with a single exception of a press sample I tested & reviewed in 2015 which swore me off of them forever. This blog contains both affiliate and non-affiliate links, and clicking the former before you shop means that this blog may receive a small commission to assist in this blog supporting itself. Please see my Contact Info & Disclaimer policy for more information.